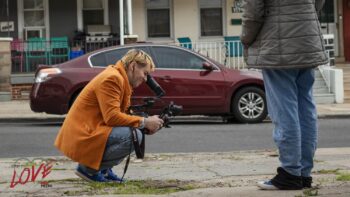 Workshops
Love Now Media's storytelling workshops are for anyone looking to connect with love as a value in building new relationships, healing, nurturing communities, advocating for justice, and making a social impact as our world navigates a global pandemic, a reckoning for racial justice, and polarized politics.
Objectives:
To create a space for people to see, hear, and listen to each other
To validate the lived experiences and personal stories of people often marginalized by mainstream media
To identify and contemplate issues of importance to the participants
To support participants with envisioning the future and encourage taking action
Lunch & Love Storytelling Workshop
Spend a lunch hour reconnecting with your co-workers! Learn the art of storytelling while deepening connections with your colleagues. Love Now Media's Lunch & Love workshops are ideal for those seeking personal and/or professional development in the areas of communication, media literacy, and emotional intelligence.
Workshop Size: 20 maximum
Time: 1 hour
Diversity With Empathy Storytelling Workshop
Love Now Media's Diversity With Empathy workshop guides participants through a series of story prompts that create a unique environment for dialogue and listening. It is ideal for groups that are new to incorporating diversity and empathy into their work values and is ideal for workplace retreats and organizational development.
Workshop Size: 15-35 participants, private groups
Time: 90 minutes
Custom Workshop or Program
Love Now Media works with organizations to create custom programs and content to support urgent issues, community changes, and recovery efforts from major shifts in environments.
Number of Participants: TBD
Time: TBD
By Zamani Feelings
My father, Tom Feelings, was one of the few and fortunate Black creatives from his time who was afforded the ability to sustain himself with his craft as an illustrator.
By Jos Duncan As the founder and Chief...
Joel Austin My name is Joel Austin,...