Syreeta Scott relocated her business four times in a 20-year career that began when the pioneer in natural hair care opened a shop in her mom's house.
Scott moved to South Philadelphia when her mother grew weary of clients traipsing in at all hours, and later fled that location when the building housing her salon was in danger of exploding because of ether left by a former tenant, a funeral home. So she took her Duafe Natural Hair Salon to 29th near Girard, then Sherman Mills in East Falls, then back to where her business has grown roots on North 22nd street in north Philadelphia.
But whether Scott was chasing independence, escaping to safety or yearning for ownership, the series of moves has led the celebrity hairstylist and businesswoman to a place where doing hair is only part of the mission.
Scott, whose clients include singer Jill Scott and poet Sonia Sanchez, is moving into residential real estate development. Late last month, the construction of a mixed-use building that will include nine affordable-housing apartments and a commercial space for businesses including Duafe, was approved by the city's Zoning Board of Adjustment.
"I've seen what gentrification looks like," said Scott, of North Philadelphia. "Purchasing this property and creating affordable housing upstairs is to ensure that our neighborhoods remain and look like us no matter who comes in – no matter what."
Scott said she has watched painfully as neighbors sell their houses only to see them renovated, sold for a huge profit and become part of a transformed community that former residents couldn't afford to move back to if they wanted to return.
The 12,000-square-foot building is a way for Scott to hold on to something old by doing something new. But the thread of community service that is at the root of Scott's foray into neighborhood redevelopment is, well, nothing new.
She has helped cancer patients cope with hair loss, given away free backpacks, hosted healthy cooking classes, guided new stylists to careers that have led them to opening their own shops, and swept nearby blocks to tidy up the neighborhood surrounding her shop. The single mother of two children has done much of it from the current Duafe location at 22nd and Lippincott Streets.
The salon is a warm and welcoming place where ten stylists work quietly in a space that's decorated with colorful print fabrics, plants, comfy furniture, African masks and art – sometimes the work of stylists such as Terrell Maurice who is also an artist and singer.
On a recent Saturday, as El Debarge's crooning vocals oozed from the salon speakers, the staff surrounded a client and began singing happy birthday.
"When I first came here, it just felt like family," said Verishia Coaxum, the celebrated client and Brewerytown resident. "I mean, like what? They remembered my birthday? The energy. The conversation. The music. This is my self-care."
When the new project gets underway, this incarnation of Duafe – a term that refers to female love, prudence and care – will no longer exist. It will be razed with the building to make way for the new complex for which Scott is embarking on a $3.7 million fundraising campaign. She hopes to expand her affordable-housing endeavors to other neighborhoods and cities. Getting this far has not been easy.
Scott received pushback during the zoning process when she applied for a variance to build in the neighborhood. At one point, community criticism was so frustrating that LaRaine Henry, Duafe's operations manager, advised Scott to forsake the project. "But [Scott] said, 'No, this is my community,'" Henry recalled.
The neighborhood is a collection of modest row houses, a playground, and small businesses with some nearby vacant warehouses. Scott grew up about three miles away in what she described as a poor neighborhood in north Philadelphia with a mother who worked hard to send Scott, who has dyslexia, to a private school. Much of Scott's time was spent with her grandmother Annie Parker, who regularly swished a broom along the sidewalk outside her house. She did the same in front of the next house, and the next.
"I'd say, 'Why don't you just sweep outside of your home?'" Scott remembered. "She'd say 'Why? This is my community and when the trash blows on somebody else's step, it could still fall on mine.'"
Scott watched as Parker, whose Great Migration story starts in Georgia, became the family's up-north anchor. Whenever anyone wanted to relocate, Parker's house was the welcoming place and temporary home base. Then, Parker helped her family members save money and buy houses in the blocks around her.
That caretaker spirit infuses Scott's community outreach and business. Scott started Duafe after attending Hampton and Temple Universities, working in corporate America and growing tired of the routine. Doing hair on the side in her mother's house became a career when she decided she wanted to offer a hair salon experience. It would be devoid of hours-long wait times or stylists who juggled five clients in one time slot.
When customers come to Duafe, Scott says she wants them to feel as if they are "being honored." At the same time, Scott wants stylists to feel valued. She plans to offer them an ownership stake in the new affordable housing complex that she hopes will provide a home for veterans and others in need. Business and community outreach, for Scott, are inextricably intertwined.
"Do you know how radical it is to love Black people, to dismiss everything this country says about us and the negative things they have painted on us, and serve the community?" she said. "The objective is to give back – radically."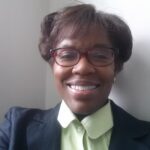 Kristin Holmes is a freelance reporter, longtime journalist and creative storyteller. She is a former faith and spirituality reporter. Kristin loves theatre, museums and supporting the arts.