DeLores "Dee" Green Todd, a Camden, NJ, native, is a hidden gem in her community. From being a barrier-breaking first in many of her professional endeavors to inspiring an industry in ways she could not have imagined, Green Todd is truly a phenomenon.
Born in Washington, D.C. on February 29th, 1948, the leap year baby grew up a middle child, flanked by an older brother, Lonnie, and a younger brother, Juan. She likes to joke and tell people she's technically only eighteen years old (if only counting the times we actually saw February 29th).
As a young athlete, Green Todd was often limited to intramural competition because Title IX had not yet become law. Title IX requires educational institutions to reward male and female athletes equally and ensures the prevention of discrimination in access to sports facilities, training centers, equipment, and other supports provided to sports programs. Until the passing of this federal civil rights law in 1972, there was no legal requirement of equal sports access and support for women.
Green Todd did enjoy cheerleading. "I was a cheerleader growing up. I cheered all four years at Winston-Salem [University] for basketball and football. I became a captain my freshman year and [still to] this day, I'm the only four-year captain," she proclaimed.
Green Todd went on to earn a Master's degree in Human Relations & Psychotherapy and pledged Delta Sigma Theta Sorority at Northwestern University. After college, she taught physical education and coached girls basketball, cheerleading and track at two high schools. While still teaching at one of them, a friend who owned a modeling agency encouraged Green Todd to start modeling. So she auditioned and landed a McDonald's modeling gig. As her portfolio grew, she worked with Jet and Ebony magazines, Dr. Scholl's and Fashion Fair cosmetics and other companies.
In 1980, when the United States boycotted the Olympics, Kellogg tapped Green Todd to grace the cover of their Corn Flakes box. The model, educator, athlete and coach was the first Black woman to do so. She did not initially recognize the significance of the cover photo until she learned the cereal boxes were flying off of shelves and people wanted her autograph. "It's the biggest thing I've ever done in terms of publicity. Every time the boxes would restock, it would sell out, and people would ask me to autograph their cereal boxes," said Green Todd.
Green Todd is a woman of many firsts. She was the first African American woman to coach at Northwestern University. When named track coach at Georgia Tech in 1985, she became the first African American coach in any sport in the Atlantic Coast Conference (ACC). In 1988 she became the first woman and the first African American to serve as assistant commissioner of the ACC. In 2005, she became North Carolina A&T University's first woman athletic director. She broke barriers coaching at Northwestern University and Georgia Tech, paving a path for other women in sports.
Along the way, Green Todd led advances in women's sports, convincing the NCAA to staff women's basketball with the same number of officials as men's roundball. She successfully championed live television coverage of women's college basketball rather than recording them for playback later.
"Women's basketball was a growing sport but nobody was able to [notice] it because the conferences wouldn't invest money in it. Equity was the main reason. It just made sense to me and I wanted to help do the right thing," she said.
Delores Green Todd has long believed in inspiring people to make a way for others as she did for them. "'It's hard to be what you can't see, so be an example.' I came up with that quote myself, and I always say it because [growing up] I didn't see the example, so I became it," said Green Todd.
She recently finished a six-year term on the Board of Legal Specialization in North Carolina. After retiring, the former track standout accepted a job coaching track at Heritage High School in Wake Forest, NC. There, this trailblazer continues sharing her invaluable experience and insight with another generation of athletes.
Tyson Waters is a freelance reporter and storyteller based in Camden, New Jersey. He enjoys sports, fitness and music.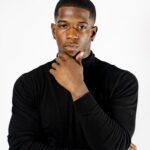 Tyson Waters is a freelance reporter and storyteller based in Camden, New Jersey. He enjoys sports, fitness and music.