By Annette John-Hall
When you hit upon the thing that brings you joy before you even learn how to read, it's probably safe to say you're one-up in life.
That's Darnell Richardson, Jr. At age 3, he was already decorating his mother's house by making streamers out of her pantyhose. At 5, he wrote and performed shows in his grandmother's North Philly basement. And when his family took him to see the high-flying UniverSoul Circus that featured a cast from every corner of the globe, it fertilized his young mind, allowing creativity to blossom even more because now he knew what was possible for him.
"I saw people who looked like me outside of the Ringling Brothers [circus] concept or the Disney concept so it made it more realistic to me," Richardson said. "That's what gave me the fire. I would go home and duplicate what I had seen. When it came to lighting, I'd put up Christmas lights. I'd boil hot water to make fog. It was enhancing my imagination."
Richardson, now 30, is the artistic director, founder and CEO of D. Richardson Productions, a full-service company that specializes in children's and family entertainment. The bulk of his operation is based in Philadelphia, but he's already expanded to Atlanta, Maryland and Florida, where he now lives. Think of his company along the lines of Chuck E. Cheese — but always keeping the culture at the forefront.
As a creative, it was the culture that groomed and nurtured Richardson.
A graduate of Imhotep Institute Charter High School in Northwest Philadelphia, Richardson took what he learned from his African-centered education and applied it to his business.
"Attending Imhotep taught me how to connect with my people in a cultural aspect," Richardson said. "It informs the music choices we use and how we interact with an audience. We offer African Masquerade stilt walkers as a service. That played a part of what was taught to me while attending an African-centered school."
One of his earliest successes came at age 19, when Richardson formed an African dance company that would perform in Philly. Soon, the company took on a life of its own.
"We'd do block parties [and] community events," he recalls. "Children just started gravitating towards it."
Richardson expanded the dance group into an arts training program. Today, the D. Richardson Performing Arts Training Program nurtures budding performers and produces events for the West Philadelphia Achievement Charter Elementary School. "We have about 50 kids enrolled in our program. They're taking modeling, acting, vocal performance – just a whole wide range of programming."
Then there's live children's entertainment, the crux of D. Richardson Productions. When Richardson's team is booked to do a kid's birthday party, it's not just the requisite gathering with, say, clowns and face-painting. In fact, performers seldom dress up as clowns because clowns can be a known trauma trigger for children. Instead, Richardson offers about 75 different mascots — characters from the Netflix kids' show "Cocomelon" are the most popular right now — along with themed performances, such as magic shows.
They call themselves "the interactive birthday experience."
Music, dance and performance form "a universal language that everybody can understand," Richardson said. "We perform not just for one specific culture, we perform for a ton of different cultures. Sometimes we perform for people who don't even speak English, but they still connect with us because of our spirit and the energy we bring in."
Every show keeps people's circumstances front and center. That's particularly important in a city like Philadelphia where gun violence runs rampant. When young people have experienced large measures of grief and trauma, empathy is as important as entertainment.
"When we're training our staff, one of the biggest things I tell them, whether we're there for five minutes of five hours," he said, "our goal is to take people's minds off of whatever they're dealing with in life. Whether somebody's passed away, whether they can't pay their electric bill, our goal is to provide a form of entertainment as healing. We leave them with a message of hope."
Not too long ago, Richardson needed his own share of hope. When the pandemic hit, the young entrepreneur wasn't sure what would become of his business. As luck would have it — or as Richardson would say, as God ordained it — his platform expanded.
"We were one of the only companies doing virtual parties," he said. "We were getting bookings from Hawaii and Los Angeles. They were booking us to jump on Zoom parties, to do magic shows and even have characters on. It actually created another lane for us because people in different places saw us."
Having emerged from the pandemic with a new option — virtual parties — on his menu of services, Richardson is open to all kinds of possibilities that grow his company. Eventually, he wants to develop his own character line. He wants to "go hard" in Atlanta and Maryland to build the kind of robust business he enjoys in Philly. He's also starting a new business that will provide tools for people like himself to build their brands.
In retrospect, he understands that putting on those plays in his grandmother's basement all those years ago was a manifest destiny–a radical act of healing.
"It gave me a sense of hope and allowed me to see my vision clearly," Richardson said. "It ultimately instilled confidence and allowed me to see that with vision, anything is possible – especially joy.
This story is part of Love Now Media's exploration of the Politics of Play. Our reporting takes a solutions approach to covering social issues and inclusive models for play while demonstrating the positive impact play, leisure, and the arts has on mental health.
Love Now Media is one of more than 20 news organizations collaboratively reporting on solutions to poverty and Philadelphia's push towards economic mobility. You can find other stories in the series here.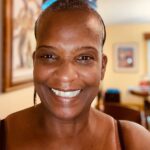 Annette John-Hall is an award-winning veteran journalist and writer based in the Philadelphia region.