Philadelphia, Pennsylvania and Camden, New Jersey are neighboring cities divided by the Delaware River and connected by a high school basketball rivalry with a deep history. The schools faced off recently in one of the biggest high school basketball games in the nation. The teams feature roundball foes who will soon play together as friends on the same team at the University of Kentucky. Camden High School boasts guard, DJ Wagner and center, Aaron Bradshaw – the No. 2 and No. 5 ranked players in the country respectively. Across the river, Imhotep Charter Institute High School small forward, Justin Edwards owns the No. 1 spot. The three 5-star recruits headlined a sold-out event that seated 4,200 spectators with hundreds in standing-room-only spaces.
Camden High (the 11th-best team in the country) topped Imhotep (the country's 6th-best), 60-57 in a game that came down to the last second, leaving anxious fans with racing hearts and sweaty palms. Wagner exploded in the second half, scoring a game-high of 22 points after a dismal first half of only four. Both Edwards and Bradshaw carried their teams in rebounds playing crucial roles while vying for a win.
"All of our passion came out in the second half of that game," Wagner said. "Just seeing how they [the fans] came out and supported us…they were going crazy like they were on the court."
In the end, fans enjoyed a high school game that felt and looked a lot like a professional game. "You could just feel the moment in the arena," said Harvey Mills, a Rutgers-Camden academic counselor and avid basketball fan.
Dorvid Durant, a teacher at Tech Freire Charter High School in Philadelphia admired the sportsmanship his students displayed while rooting for friends in the head-to-head competition. "The support they gave Imhotep means a lot [to] me teaching in the city." It speaks volumes about respect among competitive young people in the face of so many reports about painful clashes between youth.
The soon-to-be college athletes are eager to take off their high school jerseys and sport the Kentucky blue and white in 2024. "It was definitely fun to play against [Justin]. We're all competitors," Wagner exclaimed. "We still got love for him. That's our brother at the end of the day. It's going to be fun to play with him in the future. I'm definitely excited for it."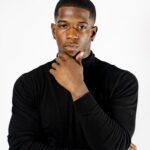 Tyson Waters is a freelance reporter and storyteller based in Camden, New Jersey. He enjoys sports, fitness and music.