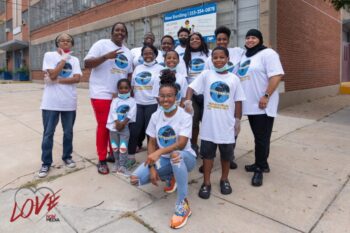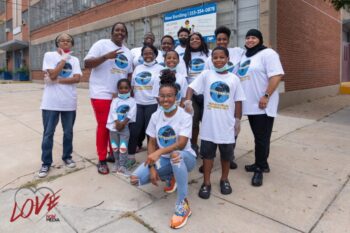 Tieara Nichelson and City Kids RAK (Random Acts of Kindness) in South Philly on Saturday, August 28th. Photo by Tezarah Wilkins
By Kim Russell
Every good love story I've ever watched included a good rain scene…
It was 11:00 AM on August 28th, and there I stood with Tieara Nichelson under a sky full of clouds. Tieara is currently a schoolteacher, affectionately known as T. In collaboration with Love Now Media, T with a group of youth, random Instagram followers, and adult volunteers and friends, distributed nutritious food and over 100 care packets to displaced citizens around the city. The care packets included fresh fruit, face masks & cozy socks. With her morning's due diligence completed, Tieara then hosted a back-to-school drive & raffle to equip children with basic classroom necessities for the upcoming school season, and many of her former students were there.
As we walked between raindrops, conversing about her passion for random acts of kindness, I was transported to an energetic realm where love for one, transmuted into love for all. With Tieara's memories as a guide, I traveled back in time to witness her journey & experienced love through a new lens. It was Valentine's Day of 2017 and T had just experienced a vulnerable moment in her relationship. Bent but not broken, T firmly grounded herself and planted seeds of love deeply within her community. In her words, "I looked at Valentine's Day as a 'lovers' day… but it could also be a platonic love, a friendship, a love of people; and I have a love of people." Settled into her new energy, Tieara & her good friend Linette came together to gift long stem roses to random people around Philadelphia's Love Park.
Tieara greets one of her young volunteers with a hug. Photo by Tezarah Wilkins
From that one seed of love, City Kids RAK bloomed. RAK is short for Random Acts of Kindness. Outside of donations, Tieara often covered costs out of pocket. However, she never let the personal sacrifice dissuade her from moving forward. She feels it is important to build a community of caring, as everyone deserves to have their humanity acknowledged. City Kids RAK, has blossomed into an inspiring organization, living up to its name, with an active mission to perfectly align its event with its foundation – kindness. Rain, snow or sunshine, City Kids RAK intend to show up.
Given the name, it may be easy to assume that each act is, indeed, random; however, T ensures that genuine thought and planning go into each Act of Kindness. City Kids RAK is already planning its annual Thanksgiving event, as well as keeping the momentum of Valentine's Day events, as February 14th was the genesis of City Kids RAK. The organization will also host a blanket drive to distribute to address the needs of our displaced citizens during our colder months. Just like the comfort of a warm blanket, City Kids RAK is covered in warmth and sprinkled with love & affection.
I'd dare say that the raindrops were merely the clouds' tears of joy for City Kids Random Acts of Kindness and their good work.
For more information on City Kids RAK visit their Instagram at @citykidsRAK or to make a donation to their work Cash App $CityKidsRAK17.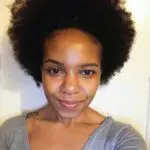 Kim Russell
Writer | + posts
Kim Russell is a poet, writer, and storyteller.