Shesheena Bray, Philadelphia, PA
Photo by Tezarah Wilkins, Love Now Media Staff Photographer
By Jos Duncan | Love Now Media
The 'me too.' movement has a new Program Director with a history in healing and wellness-focused practices. Shesheena Bray, a Philadelphia-based mental health therapist starts full time in the role on February 15th. She has spent the past 3 years leading her private practice Going Inward Wellness where she has listened to 'a stifling number' of women share stories of sexual violence. She has worked with them in individual therapy sessions, group meditations, yoga classes, and special programs to help them heal and reverse the impact of trauma. 
The 'me too.' organization has a staff and team of contributors that exists separate from the hashtag that went viral in 2017. Founded by survivor and activist Tarana Burke, the work of the 'me too.' movement started in 2006 when Tarana engaged a community of advocates with a vision to bring resources, support, and pathways to Black girls healing from sexual assault. The non-profit organization works to interrupt sexual violence by making sure the voices of Black women and girls are heard.
Shesheena's role as the 'me too.' movement's program director aligns with the organizations' prioritization of healing as the focus of their core curricula, particularly in response to COVID-19. She looks forward to bringing her understanding of trauma and healing modalities to the organization's programs and new digital offerings. 
Given her history as an activist and organizer, Shesheena seeks to better understand how sexual assault impacts cultural and social norms in Black and other communities.   By looking beyond individual experiences to examine the larger community she hopes to contribute to a larger community healing. "I want to interrupt sexual violence, I want to serve Black women and girls, I want to contribute to expanding the conversation." 
Whether fueled by the 'me too.' movement, another organization, or a personal commitment, Shesheena hopes people will contemplate their individual roles and responsibilities in working to interrupt sexual violence. 
Learn more about the 'me too.' movement at https://metoomvmt.org
Text GET HELP to 306-44 or Call (202) 319-3053 or https://nwlc.org/times-up-legal-defense-fund/
Contact the National Sexual Assault Hotline for 24/7 confidential support. 1-800-656-HOPE or https://hotline.rainn.org/online 
Love Now Media is an empathy-centered media company that uses storytelling to advocate for social justice and wellness. We produce and distribute content and lead impact-focused conversations and activities that produce outcomes. Love Now Media of CultureTrust Greater Philadelphia is a project of CultureTrust, a 501c3.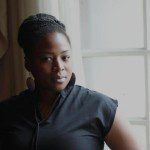 Jos Duncan
Founder & Chief Storyteller at Love Now Media | + posts
Jos Duncan is a multimedia producer, professional storyteller, and social entrepreneur with over fifteen years experience collaboratively creating and documenting community-centered narratives. She is the founder of Love Now Media, an empathy-centered media company that uses storytelling to advocate for social justice and wellness, now.